Public Museum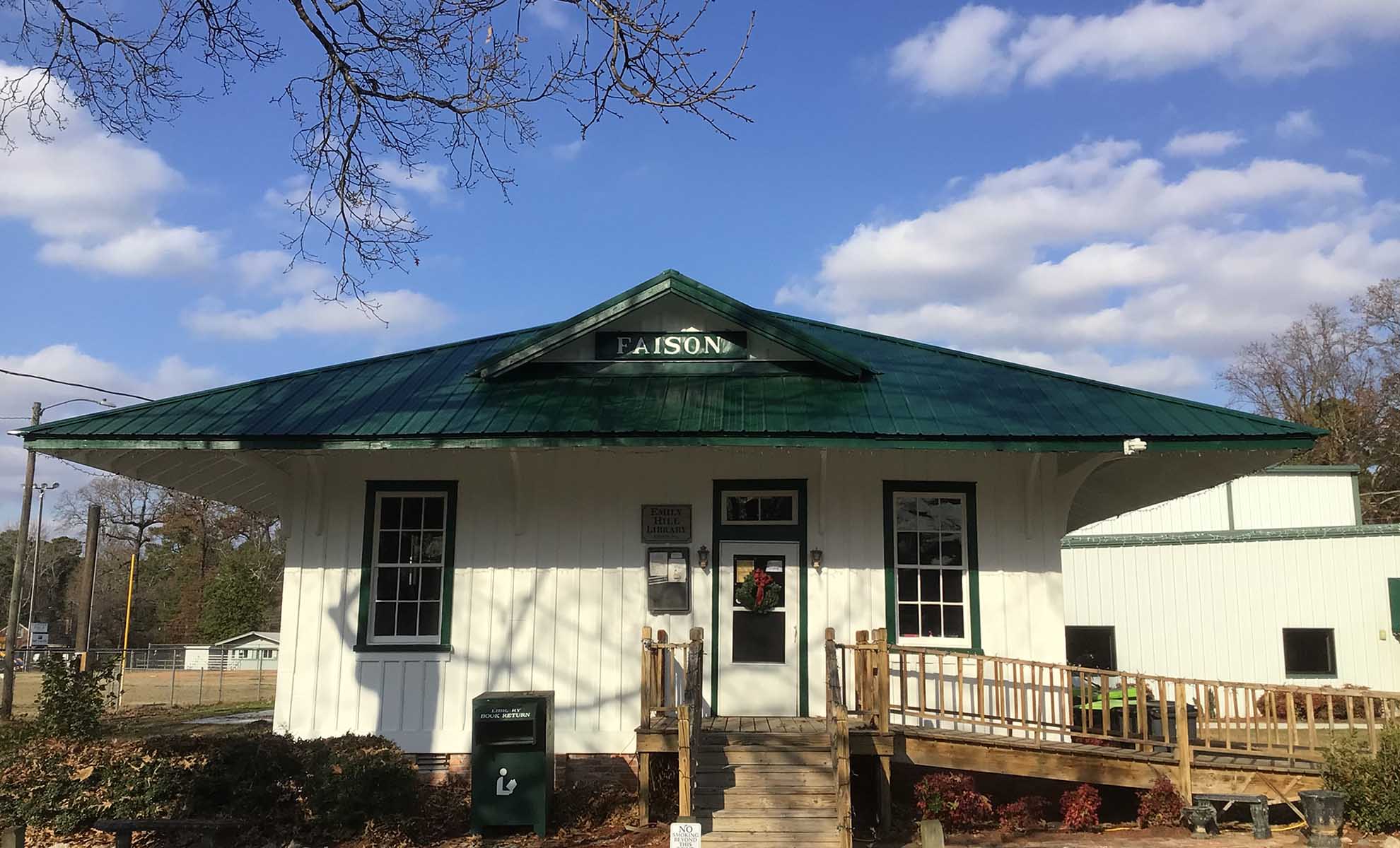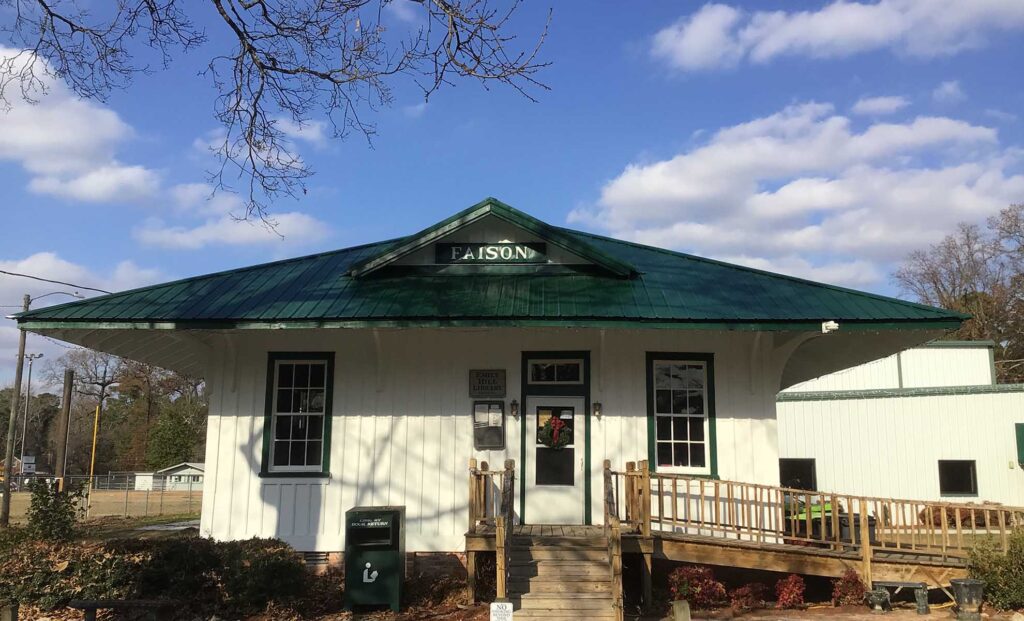 The Faison Library & Museum
106 Park Circle, Faison, NC 28341
Hours of Operation: Mon, Wed, Thur 2:00 – 5:45 PM
Friday, 9:00 a.m. – 1:00 p.m.
CLOSED on Tue, Sat & Sun
Library Phone Number: (910) 267-0601
Alternate: Faison Town Hall at (910) 267-2721
Note: The Faison Library and Faison Museum are co-located in the historic Faison Depot Train Station
Faison Museum of History
Mission Statement
The Faison Museum of History is dedicated to the preservation and promotion of the history, culture and heritage of Faison, North Carolina and its surrounding area. The museum program is designed to collect, and preserve documents, materials and artifacts which contribute in a significant manner to the understanding of the cultural, religious, political and economic history of the Faison area/
About the Museum of History
Faison, North Carolina was founded in 1776 and its history dates back to an early settlement in 1733.The Faison Museum is co-located with the Faison Library in the old Faison Depot Train Station. The Faison Depot station dates back before 1890 when the Wilmington to Weldon railroad was built. Faison Depot, as the town was known at that time, became a center of commerce and a major shipping point for agricultural products sent by rail to Northern cities.
Preservation of Museum Collections
The Faison Museum Committee is currently implementing a project to preserve the various Museum Collections. Preservation techniques include categorizing documents and inserting the item in a protective package. This process is very labor intensive and is a slow process. The Museum Committee greatly appreciates volunteers who donate time to this effort. The process of performing preservation, provides a wonderful opportunity to become familiar with the History of the Town of Faison. Join the preservation project and become a recognized member of Faison's "Preservers of History".
Self-Guided Tour of the Faison Museum of History
A self-guided tour of the museum is available to visitors. Visitors to the museum, will have access to collections of historic information. Collections include, Photo Albums, Scrap Books, Family Genealogy, Maps, and many other types of collections. Click on Faison Museum Collections to view the full list of collections. Note that many of the listed collections have been digitized and can be viewed online at FaisonDepot.com. Other collections are available only at the museum and others can be viewed both online and in the museum.
Self-Guided Tour of the Faison Historic District
A guide is available online and at the museum to conduct a driving or walking tour to view the many homes in the Historic District. A companion reference book, Front Porches, Front Parlors that describes the architecture of each of these historic homes is available at the Town Hall.
Examples of Museum Exhibits (include):
Faison Area Veterans of all wars (2014)
Faison Area "Gold Star" Families of those who were KIA in America's Wars
Faison Goes Global
History of Faison Fire & Rescue, since 1934 (2016)
Stewart Precythe and Southern Produce Distributors (2017)
Celebrating 100 Years of Sports History in the Faison Area
Sports Memorabilia from the 1900's (2018)
Events that Honor and Celebrate Faison's History
Astronaut, Dr. William E. Thornton Day
Betty Ray McCain Day
Photographer, Carson Boone exhibit of 32 photographs that depict life during the late 1900's, in the Faison area (2002)
Reception to honor veterans of the Vietnam War (2015)
Faison Area Veterans Appreciation, From the Farm Fields to the Battle Fields (2015)
"Old Timers' Day", Celebrating 100 Years of Sports History in the Faison Area (2018)